Autism Is Not What You Think It Is – In Person Training
May 23 @ 9:00 am

-

12:00 pm

$30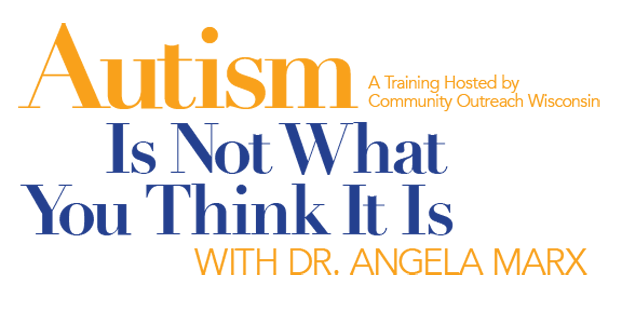 Registration is closed.
Cancellations made within 24 hours prior to the start of the training will be charged the full registration fee.
Much of the current clinical and scholarly information around autism is deficit-based and limited and some of it is now known to be completely inaccurate. The result is disconnect from the actual experience of being autistic which contributes to misinformation, misguided support, and unintentional harm. Bring your knowledge up-to-date based on the past 15 years of the neurodiversity movement, which is largely informed by autistic scholars and the autistic experience. Understand the autistic brain and how to be an ally and best support autistic people. When we know better, we do better!
About the Presenter:
Angela Marx, PhD, is a licensed psychologist in Wisconsin. She has been joining with children, adolescents, adults, and families in various roles and places for more than half her life and spent 12 years in academia studying and training in clinical psychology. Although she considers herself a scientist and uses research and knowledge, she also knows that there is so much more that we do not yet know and focuses on each person's experiences to join and learn with them. Dr. Marx also has extensive practical and research experience with and provides clinical consultation to caregivers and direct support professionals. Dr. Marx has a private practice, Place of Mind LLC, that specializes in psychological assessment and mental health and wellness with neurodivergent children, adolescents, and adults to help them discover and define who they are and find, or create, the places where they belong and flourish.
Related Events